The Old Sod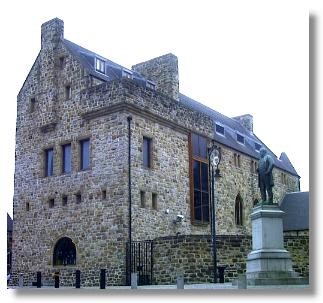 We're going to Scotland!!!!

Geoff and I are headed across the pond in July. There are hardly words to describe how excited I am. It's unbelievable. We're hoping to stay in a B&B or maybe more than one. We'll be in Glasgow and time & money will dictate how much we see & do. I never thought I'd get to take a trip like this.
Okay, onto to other stuff, though I feel like I could talk about all I want to do in Scotland forever.
Bill O'Reilly. You know I dig the guy, but I wasn't sure about what was said on yesterday's show. He talked about Canada's stance on the war, and he had a columnist from the Globe & Mail on (whom I thought came across in a less than flattering light). Anyways he said Canada was walking a path that would lead them into the same league as France. And you know how well France is liked here. So I had to email him about my logistics of Boycotting Canada. I don't think I could. But I'm disappointed that my home country isn't being supportive of the States. And I'm frightened by the "news" that Canada is fed. I better try to explain this better.
When I lived in Edmonton, I had a perception of what I thought the U.S. was like. I mocked Americans, and delighted in their misfortune. Then I moved to the U.S. and it wasn't quite like I thought it would be. It's different, and there are some arrogant stupid Americans, but that is also true of Canadians. Here they think Canadians are all sweet and friendly. And frankly, we're not all like that. But where did I form these opinions of a country I'd never seen? Am I making sense? I just don't think you can trust all media to be honest.
I think Bill's going to talk about it again today, so I'll have to tune in.
On a lighter note, I watched the movie Go yesterday. It was alright. Some of the movie I liked more than other parts, but I thought the casting was pretty good. I hope to watch the commentary on Goonies tomorrow, and make it to Peet's (which I didn't do on Tuesday).
We've started to set plans in motion for the Irvine trip. I have to email some friends who wanted to set up a get together. It's nice if you can get in a visit with several friends at once, so it doesn't take up all your nights. Like it does in Edmonton. 🙂
I couldn't stop myself, and I found out how Angel was going to end. Here's the thing, it's so very Joss to kill off characters. No one is safe from him. And the WB has agreed to put out some Angel movies on tv. But if you kill off the characters I love, where is the reward in tuning in? Granted, he often brings the dead back (Darla and Lilah to name two). But still…
It's only fitting to end with the lyrics to The Old Sod.
From the old sod to the new land we came over by the score

We cut the ties and said goodbye and closed the old world door

We settled on the prairies in your cities, and your towns

There's another oatmeal savage every time you turn around
And there's none more Scots than the Scots abroad

There's a place in our hearts for the old sod

Oh there's none more Scots than the Scots abroad

There's a place in our hearts for the old sod
Well we soon found our own kind formed clubs and social nights

We practiced on each other just to keep our accents right

For there's more tartan here than in all the motherland

We came 5,000 miles to the gathering of the clans
And there's none more Scots than the Scots abroad

There's a place in our hearts for the old sod

No!, there's none more Scots than the Scots abroad

There's a place in our hearts for the old sod
There's a bar in the rec room in the basement of our house

A little shrine to Ballantynes, Haig and famous grouse

There's a sprig of purple heather from the land that once was mine

And Robbie's on the tea towel with the words to Auld Lang Syne
And there's none more Scots than the Scots abroad

There's a place in our hearts for the old sod

Oh There's none more Scots than the Scots abroad

There's a place in our hearts for the old sod
Well Canada's been good to us we've a living and a home

We've all got central heating here and most are on the phone

I'm a citizen of both countries and I'm very proud to be

The thistle and the maple leaf are the emblems of the free
And there's none more Scots than the Scots abroad

There's a place in our hearts for the old sod

Ah there's none more Scots than the Scots abroad

There's a place in our hearts for the old sod